Today I'll share with you the reports I use to identify the biggest SEO quick wins. They highlight SEO opportunities that are immediately actionable and don't require content creation or link building.
SEO Quick Wins That Work
A successful SEO follows a data-led strategy. They know SEO is an investment and a long-term game. They don't follow shiny objects. Instead they have the patience to execute a process that may take months to come to fruition.
That doesn't mean they are skipping over their SEO quick wins.
There are many actions an SEO can take to quickly bump their traffic. The challenge is spotting the opportunities that will deliver the biggest returns for the smallest investment in resources.
Content creation and link building can bring big rewards, but they are also time intensive and resource heavy.
These SEO quick wins are the easiest, low-effort, fast-acting changes you can make to impress a new client or boss.
Setup Google Search Console Reading My SEO Quick Wins
For all of todays reports I'm using the Google Search Console. It's free and one of the most useful SEO tools out there. Most people just use it for checking impressions or the clicks, but these metrics provide little value to us. I'm going to show you how to supercharge your SEO with it. Before we delve into my tutorial I'm going to assume that you've verified your site in Google Search Console and have some data to review. If you haven't done it yet, do it now. You'll get a lot more value from this post.
I use these exact same report templates to optimize for bigger websites with hundreds of thousands of visitors…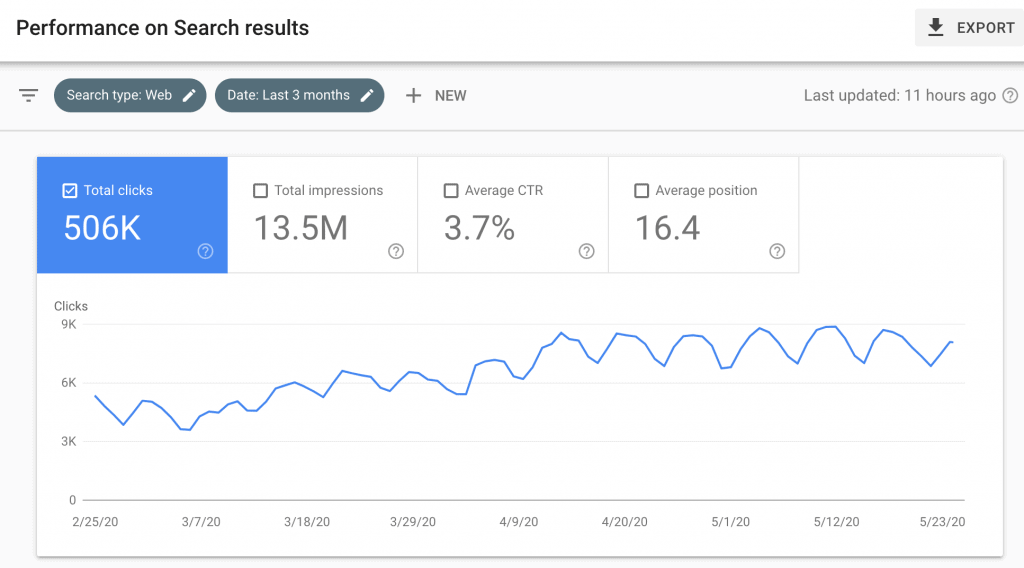 And smaller websites with hundreds of visitors…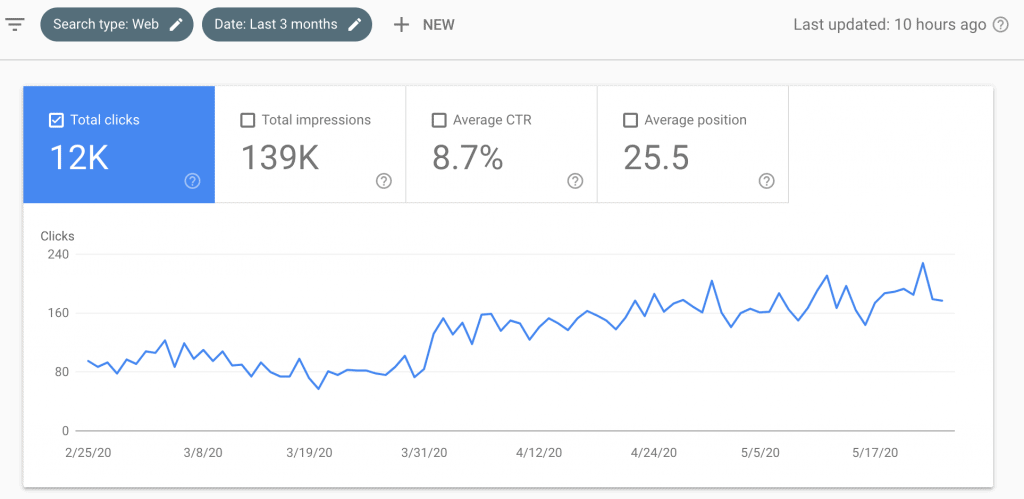 Ok let's get started.
1. Increase Your CTR
It's a very simple SEO quick win and it WILL increase your traffic.
On a webpage the title tag is used to state the webpage title. Just like a news headline. It usually looks like this in the Google Search Results.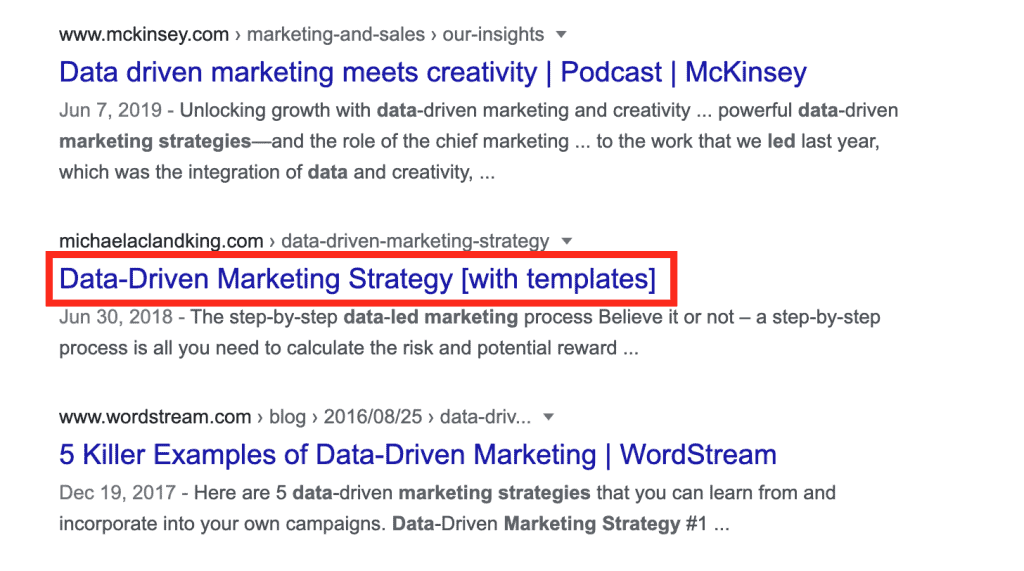 Optimize Your Title Tags For Better CTRs
It's your very first opportunity to excite and entice a potential new reader. If it's of no interest to the reader, they will glance over it and move on.
The purpose of the title tag is to tempt the reader to click and read on further. If you optimize your title tags, you can get more visitors.
This is your opportunity to loose or gain a visitor.
A strong headline can mean the difference between a new visitor and a lost click. In the example below you can see Blast Analytics have clearly described what the page is about whereas my page is ambiguous.
If this person is looking for a "google analytics consultant in Seattle" I am not making it clear this is what this webpage is about. The searcher would most likely skip it and click on the Blast Analytics link.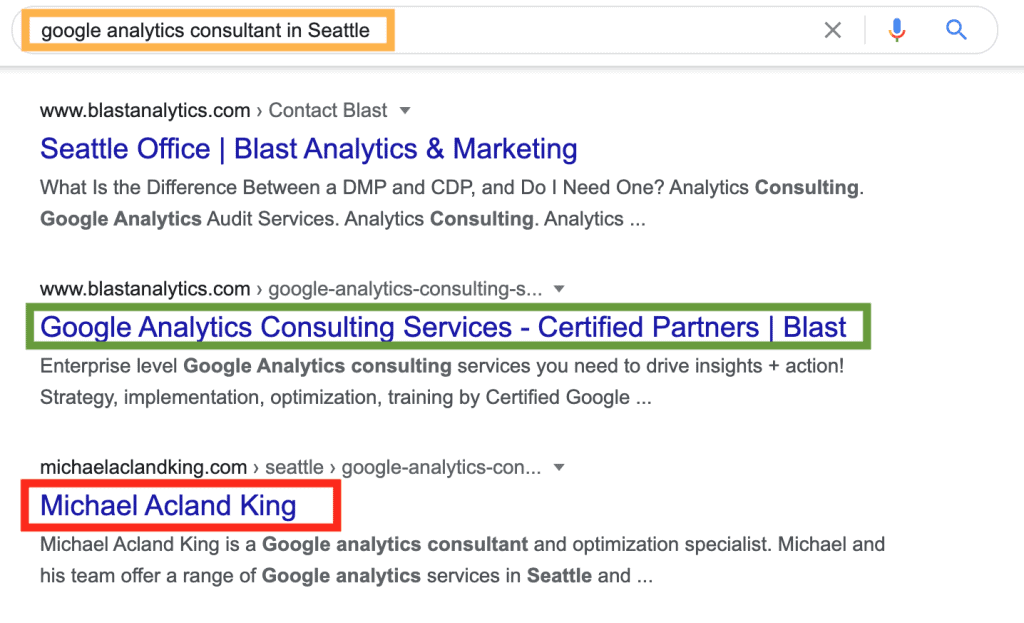 The ratio that we use to measure the number of people that see and click the link is called the clickthrough rate (CTR). If 1000 people see a link, and of that number 10 people click it, the CTR is 1%.
It does not matter if CTR is, or CTR is not a ranking factor. The reason we optimize keywords and pages for position #1 is to get more visitors. If your title tag persuades more people to click through to the website then we have accomplished our objective.
Identify Landing Pages With Low CTRs First
To spot the opportunities for optimization I use a nice simple report that shows me exactly where to start. You can see below how many clicks we currently get, and how many more we could get.

Make A Copy Of The Report Template
To find out which of your page titles you should optimize open the Low CTR Optimization Report here.
Make a copy of the workbook.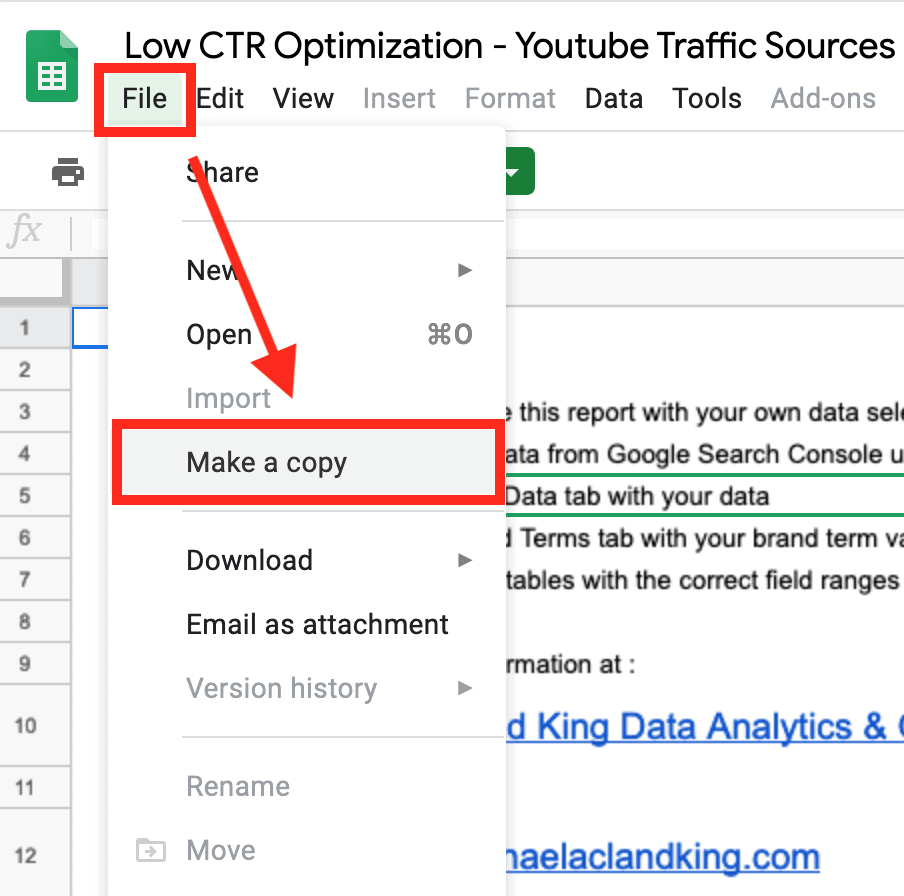 Add Your Data To The Report
Open tab "2. Raw Data" in the workbook.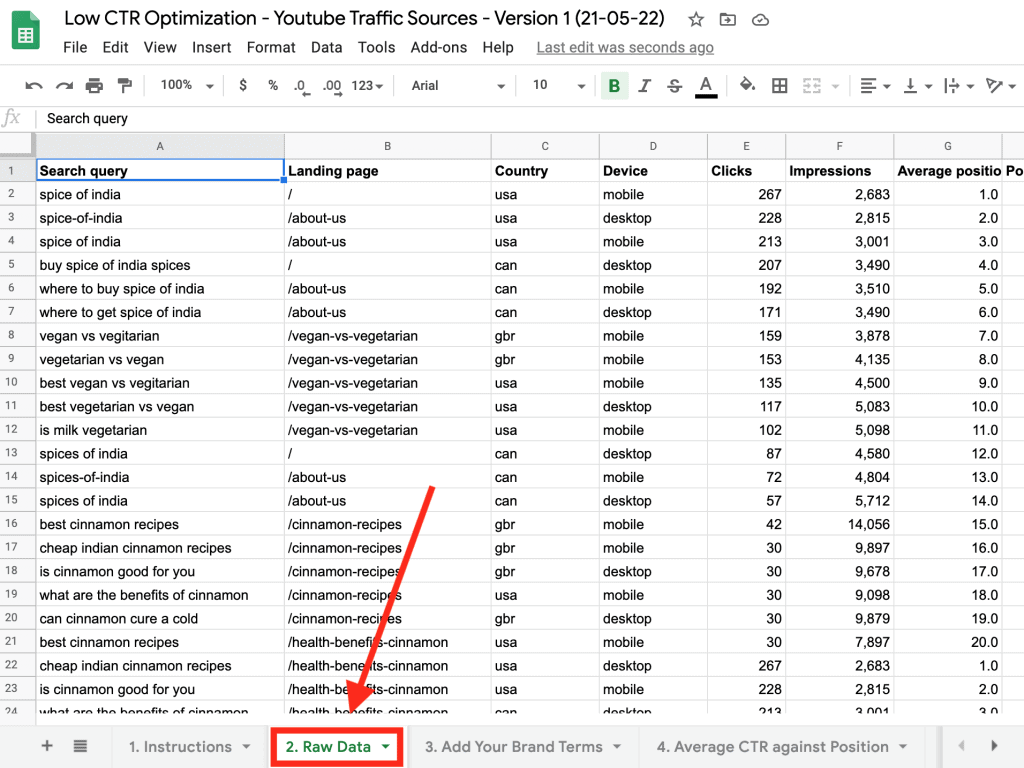 Using Supermetrics, Search Analytics For Sheets or a tool of your choosing, download the following columns from Google Search Console:
Search query, Landing page, Country, Device, Clicks, Impressions and Average Position
Add the downloaded data to the corresponding columns in the "2. Raw Data." sheet.
Add Your Brand Terms
In tab "3. Add Your Brand Terms" add your brand terms and any variations you commonly see.

Update The Data Range
Open sheet "4. Average CTR against Position."
Sometimes the pivot will update automatically and sometimes not. If you open the "4. Average CTR against Position" and it's blank like the screenshot below you need to click open the pivot settings and update the data range.
Click on the purple box and update the range with the full range of your "2. Raw Data" sheet.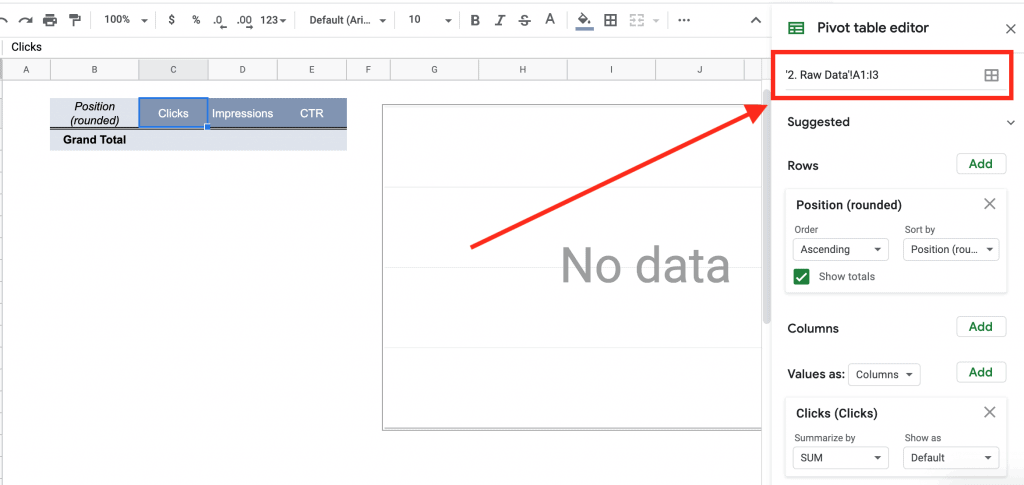 It should then look a little more like this.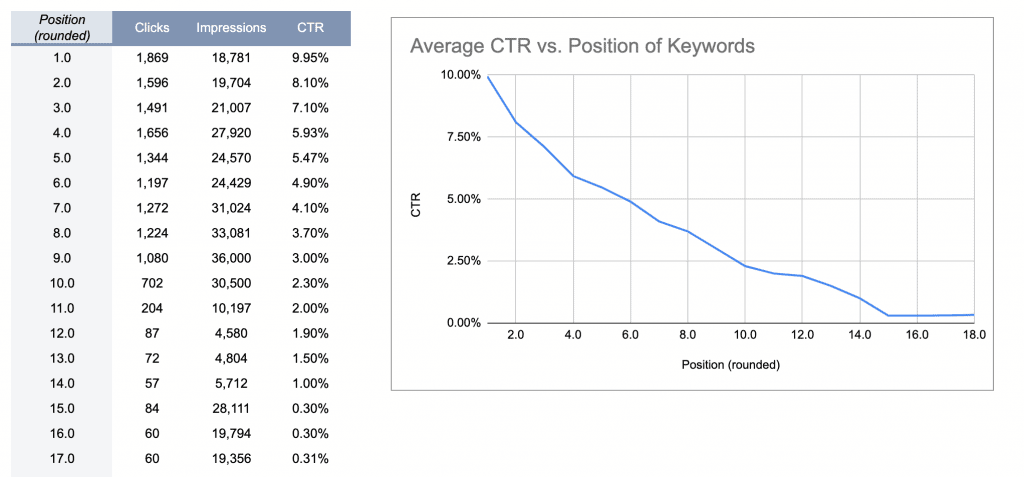 You'll be able to see the average click through rate for all keywords depending on their position.
Set Your Filters
You can also choose to look only at specific countries and devices or segment brand from generic keywords. Searches for your brand terms for example will have a high CTR and will skew your results.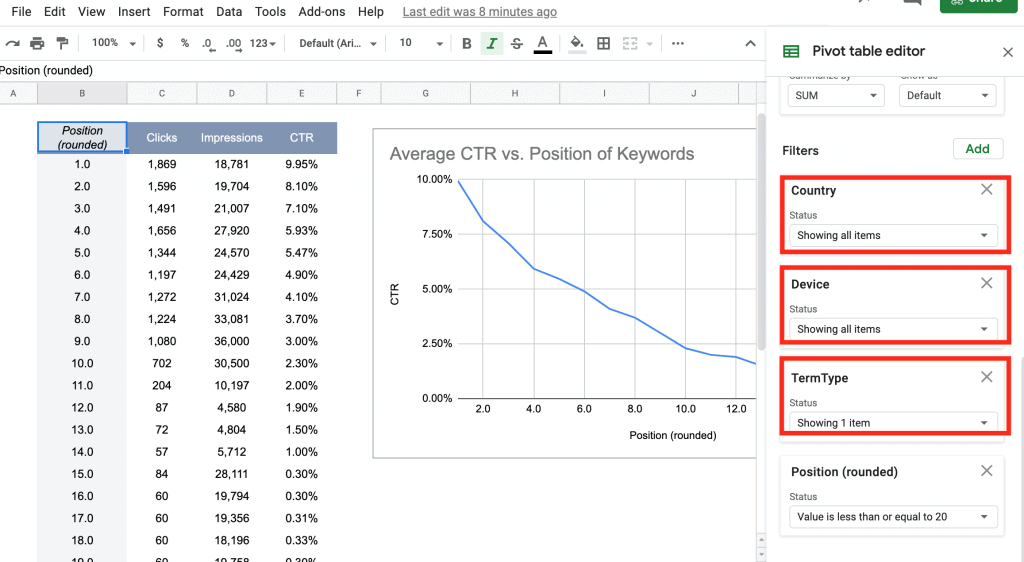 Spot The Easy SEO Optimization Opportunities
The only tab you need for spotting opportunities is the "5. Low CTR Optimizations."
First check that the range is set correctly. You want to make sure you're looking at all your data and not accidentally looking at the demo data.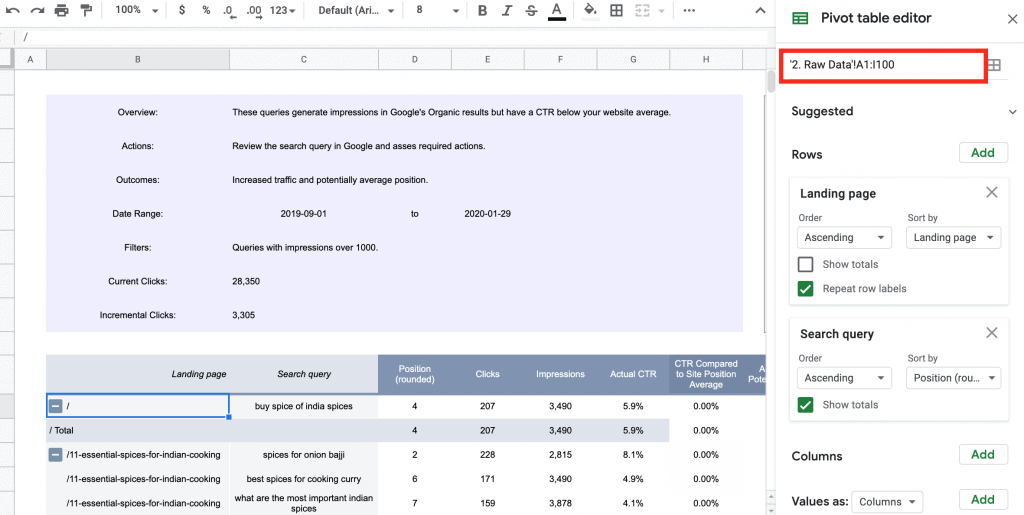 Double check your filters are set the same as the filters in "4. Average CTR against Position" tab.
No one visits Page 2 of Google so I suggest setting the Position (rounded) filter to values less than or equal to 10.
You probably shouldn't waist your time with any keywords with low search impressions. Set the Impressions filter to include any values greater than or equal to 99.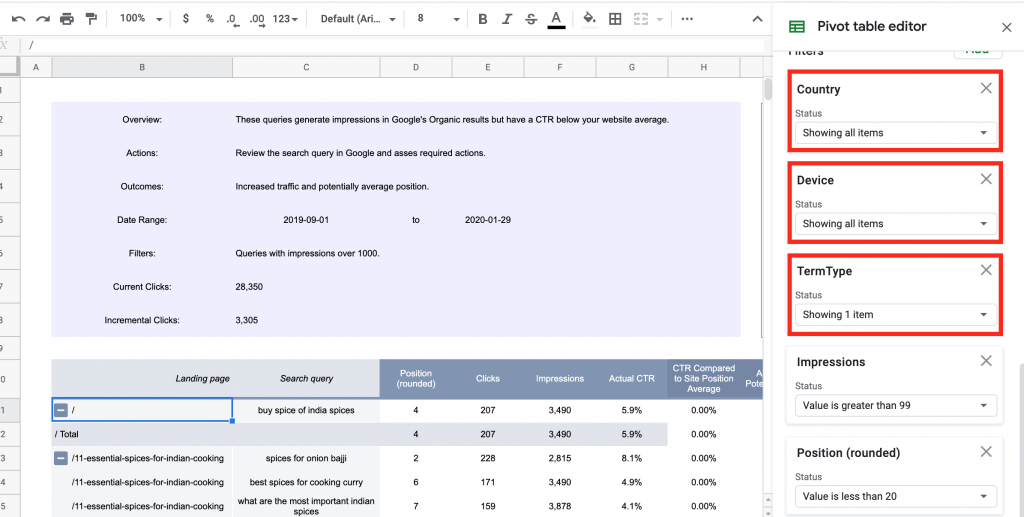 If you've done that, we've hopefully got some data to review.
The 'Incremental Clicks' field is showing you how many more clicks could be earned with some CTR optimizations. If you don't have very many site visitors yet, this might be blank or show very little data.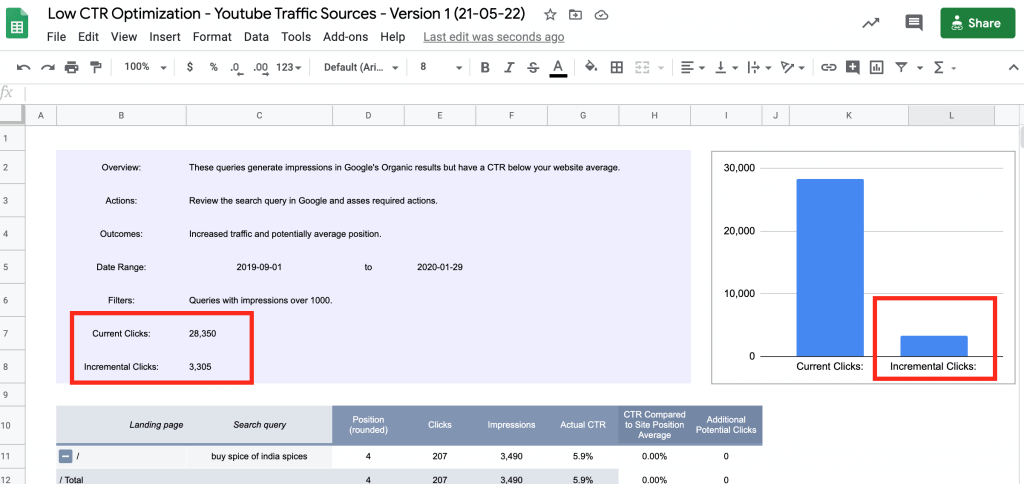 Scroll a bit further down to the pivot table.
On the left, you should be able to see the landing pages that Google is referring traffic too. Along side the landing pages you'll see the search queries people type into Google.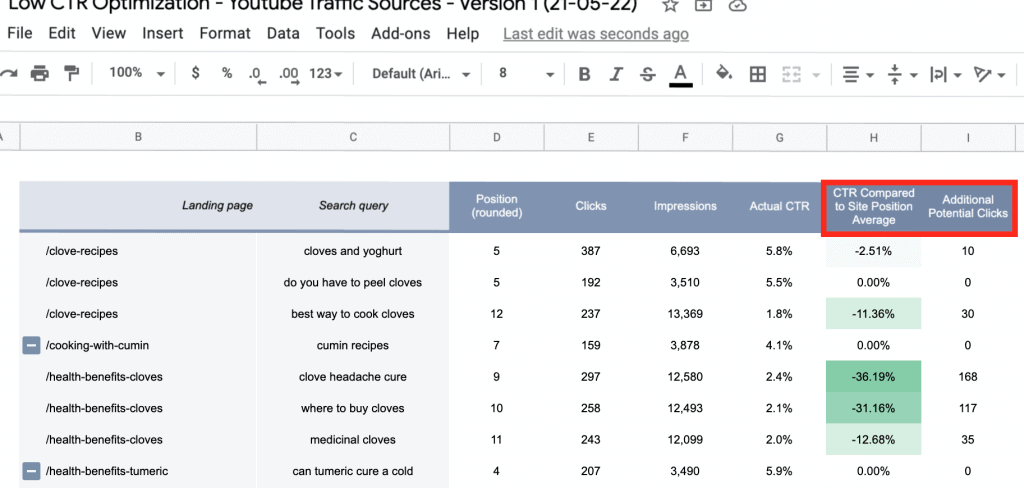 To the right of the landing pages and search queries you'll be able to see the "Actual CTR" column and a new column "CTR Compared to Site Position Average."
If the CTR is below the site average for the relevant average position the table will show how many extra clicks you could earn if the CTR was on par with the site average.
These are landing pages with the page titles you should be optimizing.
Here you can see some great examples of search queries that have low click through rates. You can see how many extra clicks the site could get if they improve the CTR.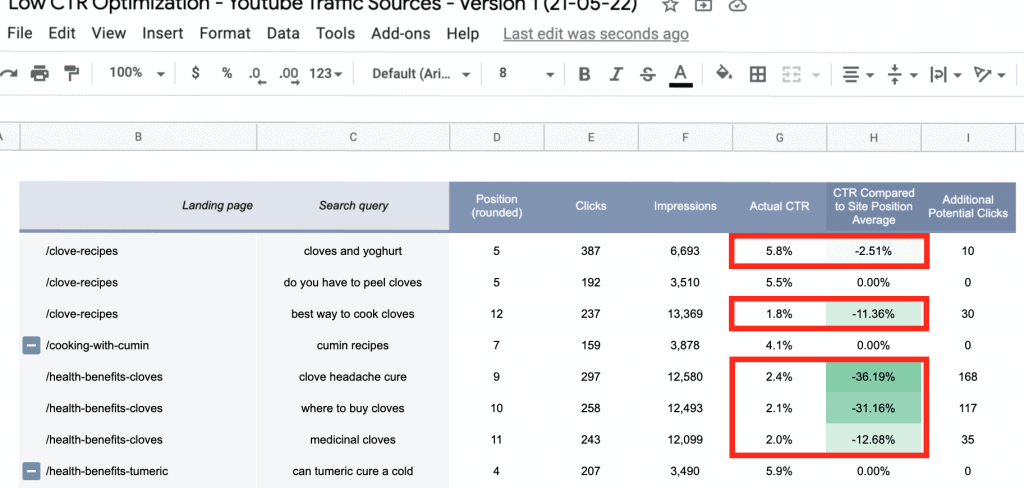 Question If These Are Opportunities
First question to ask yourself…
Is the search query relevant to the landing page? If Google is pointing search queries for "cumin recipes" to a "/yoghurt-recipes" landing page, updating the page titles won't help. If you did change the page title to be more relevant to "cumin recipes" you might then also drop the CTR of your yogurt related queries.
Second question…
Do you own the featured snippet for the search query you're looking at? Featured snippets generally have terrible CTRs. It's the point of them. They deliver a quick answer to the reader and there's no need for the search to continue on.
Implement The Optimizations
When you have found a handful of pages and search queries with poor CTRs make a start by improving the page titles. Follow these tips to get started:
Tap into people's emotions and make your title more compelling by using relevant power words.
Brackets and parentheses help break up titles and make them easier to read.
Enticing users with curiosity is an old copywriting technique.
In the SERPs Google will start cutting off title tags after 50 to 60 characters.
2. Improve Average Position
Ranking in position #1 is a great achievement, but it's not always realistic.
Moving up the rankings by two, or even just one position can often have a massive impact on the amount of visitors your page gets.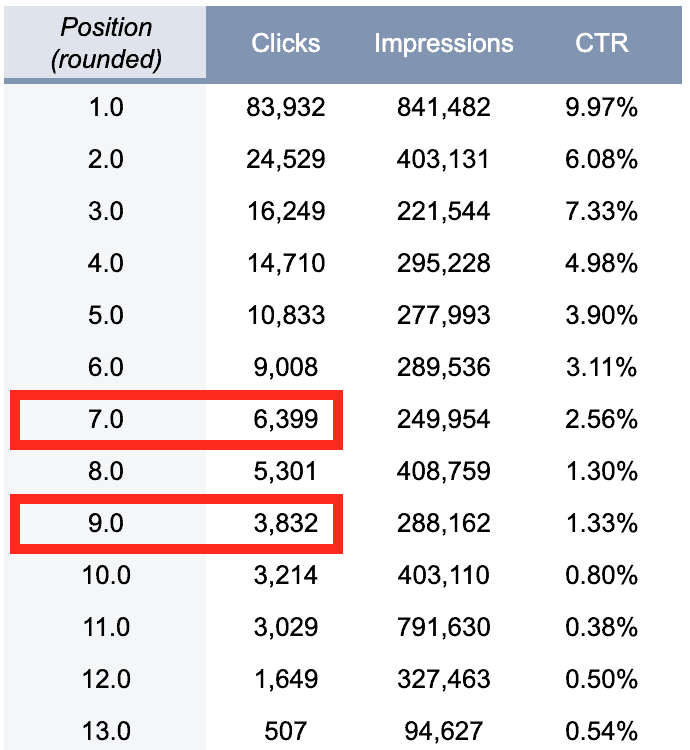 Improve Your Page Just Enough To Move Two Positions
This report will help you spot the pages that get clicks but could get SIGNIFICANTLY more clicks with a few on-page optimizations.
Make A Copy Of The Report Template
You can start by downloading the Page Optimizations report here.
To add your data and get setup follow the instructions above for the Improve Your CTR Report.
Are There Enough Clicks To Make It Worth The Effort?
Open up the "5. Page Optimizations" sheet.
You should be able to see in the incremental clicks field how many potential clicks are up for grabs. This is an estimate based on your average CTR for keywords in similar positions.

Make A Note Of Which Pages Are Worth It
Scroll down a bit further and you'll be able to see a new column called "Incremental Clicks if Rank Improves by 2 Positions."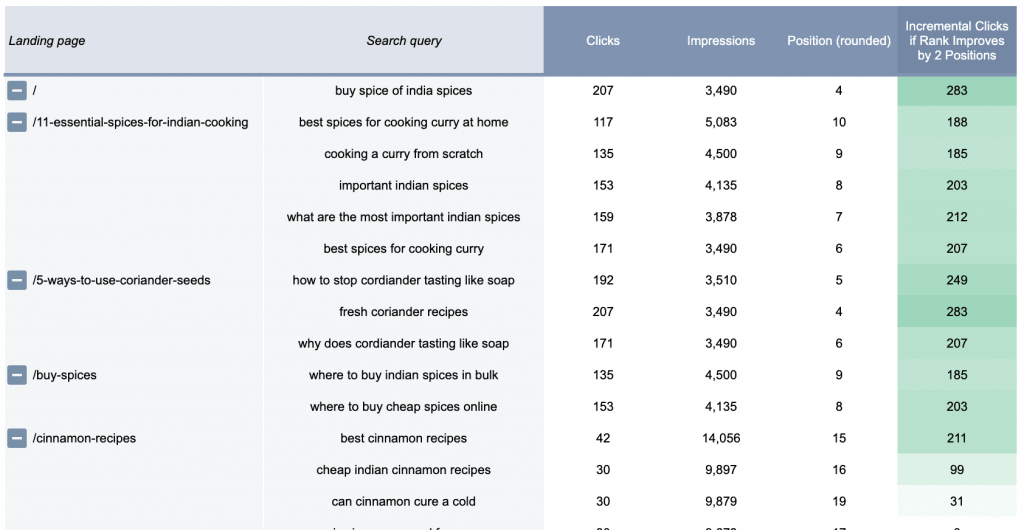 Optimization Tips & Actions
So what should we do with this information?
For starters, I would type the search query into Google.
Copy Your Competitors
Look at what my competitors are doing and what makes their pages rank higher than mine.
Do they have more content?
Better, longer or more in-depth content?
Do they have more keywords on the page?
Have they got more media?
Is the page better optimized?
If yes to any of the above, then you know what you to right?
The next idea…
Boost Your PageRank
Do your pages have strong ranking signals? Maybe you could get away with just adding some internal links?
An internal link is one that connects two pages on the same domain. If for example I linked from my blog post on Google Ad Optimization to my blog post on data-led marketing strategies, it would be an internal link.
When strategically used, internal links can boost the rankings of a page in the search engines. In general, the more internal links a page has, the higher its PageRank, and PageRank is a Google ranking factor.
In a very simplified way, PageRank is divided equally between the total number of links on a page.
Add Internal Links To Boost PageRank
What this means is if you add internal links from relevant, high-authority pages to the pages that need a boost, you might see a boost the pages organic ranking.
So to complete this optimization we need to know two things.
Which pages need a boost from some internal links
Which are your relevant pages that could provide the links
Find The Pages That Need Internal Links
To identify the pages that could do with some internal links open and save yourself a copy of the Internal Link Optimization report.
The report shows you the pages currently ranking in positions #2 — #5 and for which keywords.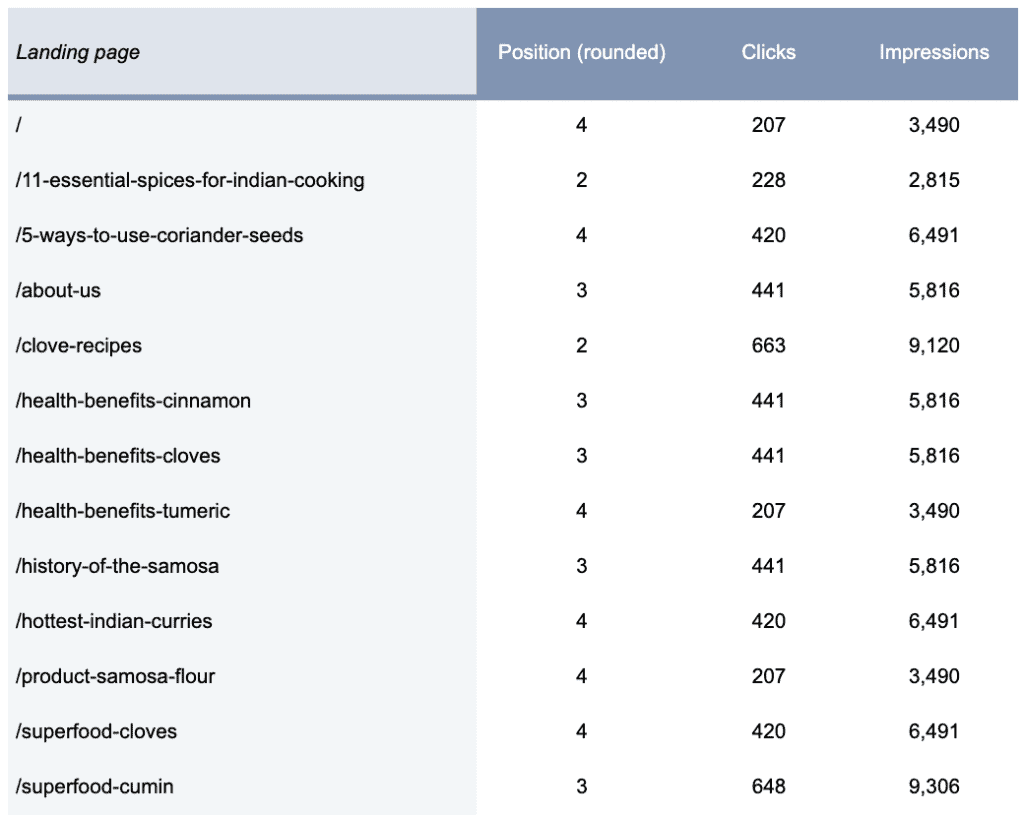 The reason we've highlighted the pages ranking in positions #2 — #5 is because they are already performing well. A few internal links can potentially make a big difference in their rankings.
You can also pull find this same data in the Google Search Console interface.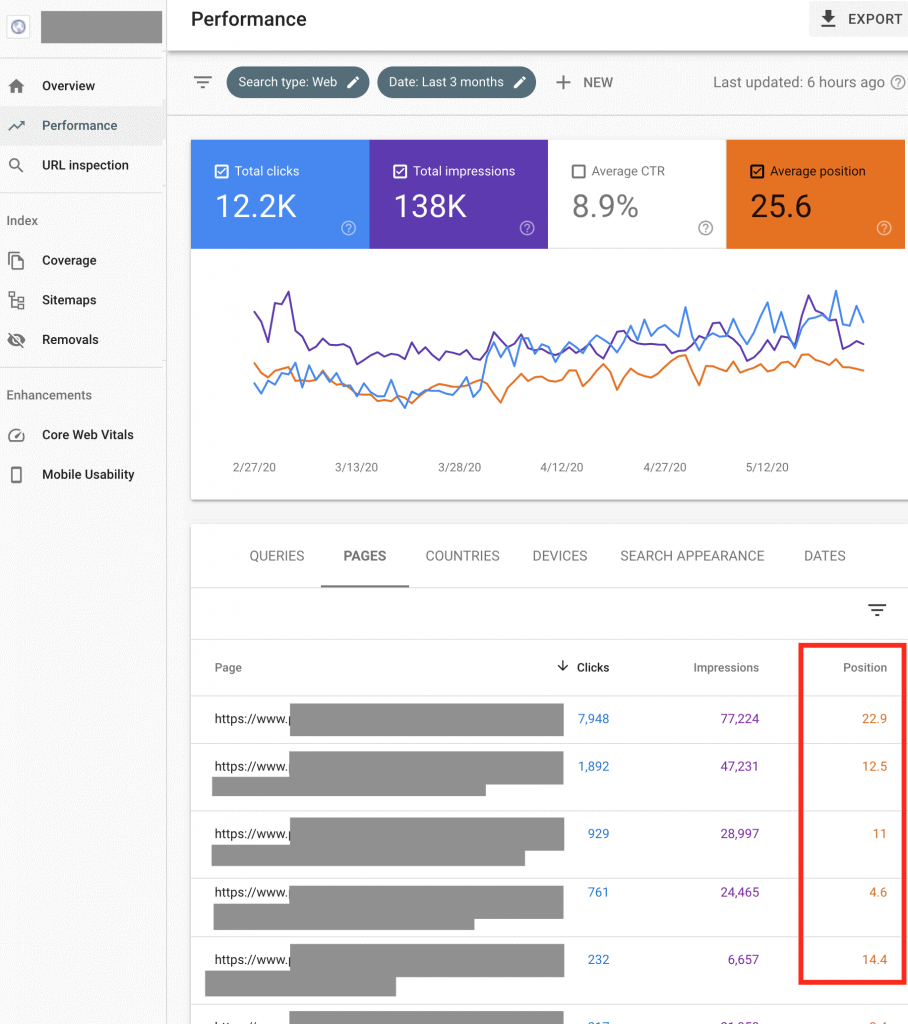 Find Internal Linking Opportunities
The easiest way to find content on your website to add an internal link to is to use a search operator in Google like this:
site:websitedomain.com "A phrase or related term"
Using site: at the beginning refines the Google search to only this website. Putting a word or phrase inside quotes, for example, "Facebook Ads" forces Google to search for an exact match of that phrase.
So If I had discovered a blog post on michaelaclandking.com about Facebook Ads that needed an internal link I would search for: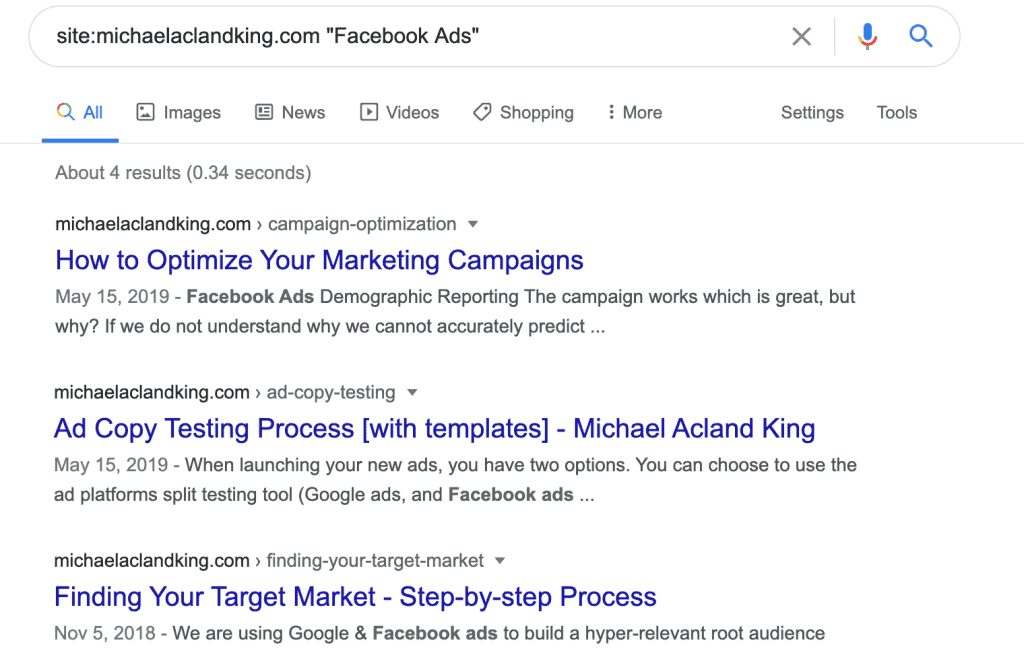 Add Contextual Links To Pages
Next, I need to read through the content on these pages and find relevant contextual link opportunities. I would then add internal links to these pages with relevant anchor text.
Fix Broken Backlinks
When I set out to write an "SEO quick wins" post I didn't want you to feel you needed to create anything new. After all, these are easy wins.
No backlink building and no content creation, but backlinks are still a fundamental piece of the the ranking puzzle.
So instead i'm going to share a report that shows you the backlinks you already have, that aren't doing anything for you.
Broken inbound links from other websites usually occur because:
The page they were pointing at was deleted or moved;
The site linking to you made a mistake with the link.
If another websites is linking to you and the link it broken, you're losing referral traffic and you're losing the "link juice".
Find Your Broken Backlinks With Google Analytics
Start by opening the broken backlink report in Google Analytics.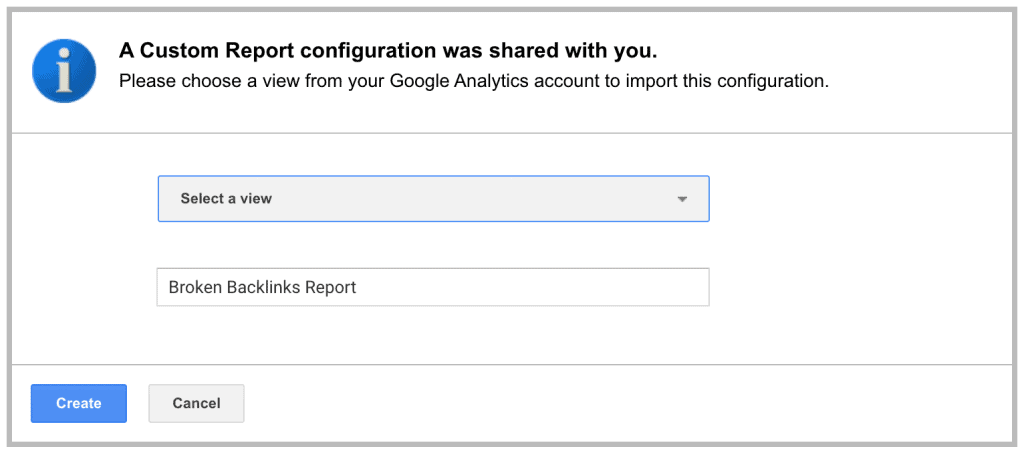 You will be able to find the Broken Links report on the left in Custom Reports.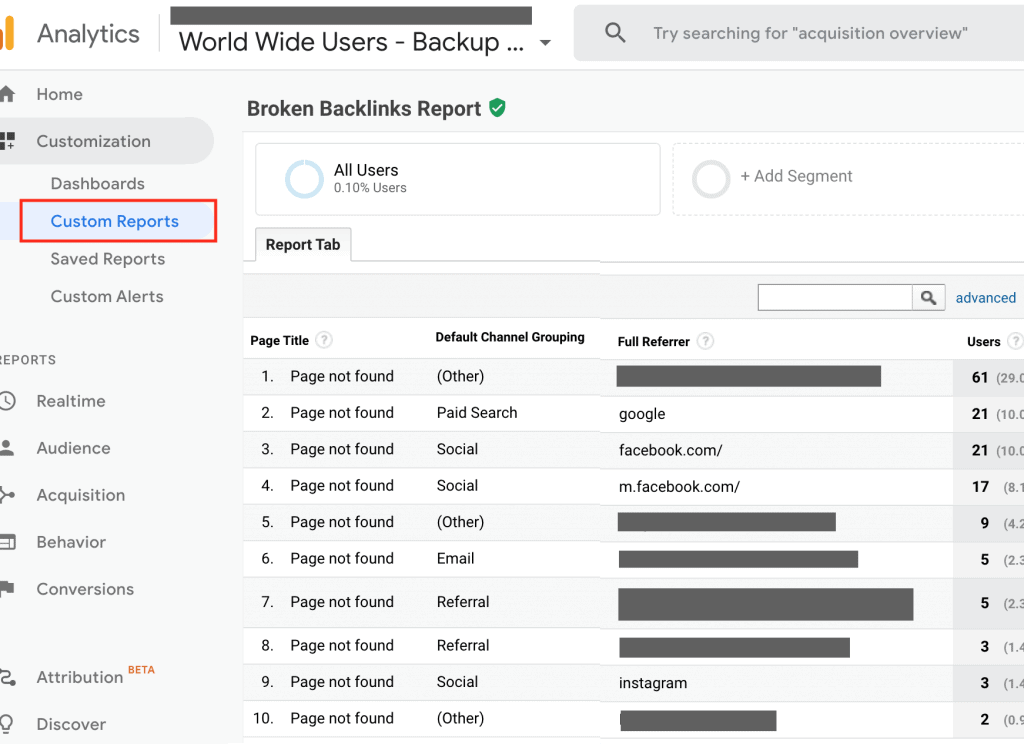 I usually extend the date range for at least 30 days. You might also have to go into the settings and update the filter if your "404 not found" doesn't match my filter.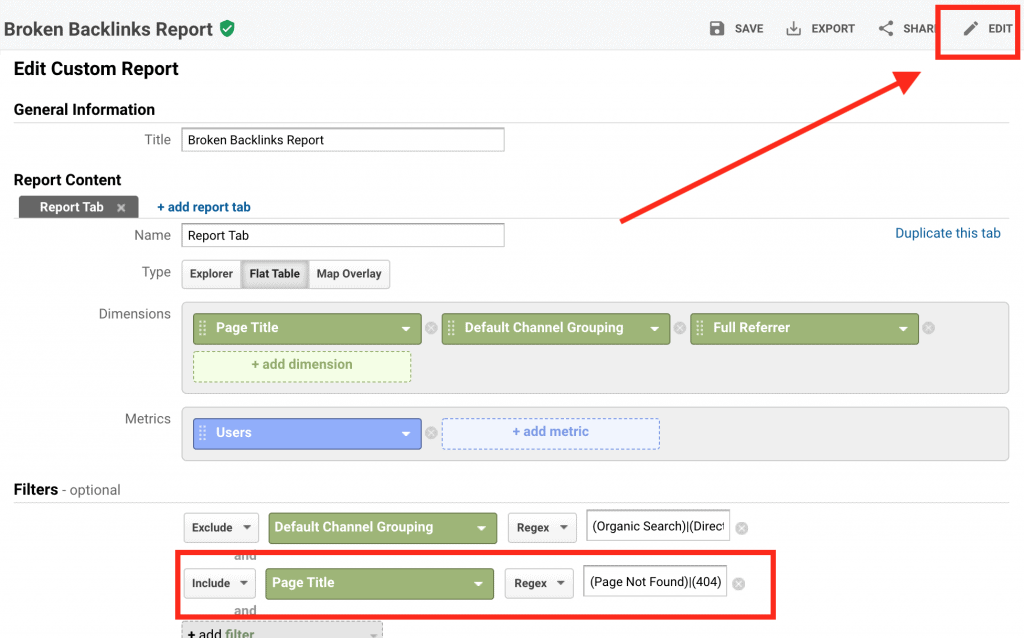 You can fix these broken links in a few ways:
Redirect the broken page to the new location. If you have changed the URL of a page and forgotten to redirect it. In which case, find the new page location and implement a 301 redirect.
Redirect the broken page to another relevant page.
Restore the page back to its former glory.
Recreate a page at the broken URL.
What About Broken Backlinks That Don't Appear in Google Analytics?
Websites may have even made a mistake in the domain link to your website. In which case these wont even appear in Google Analytics.
To find them you could use a search operator in Google like this: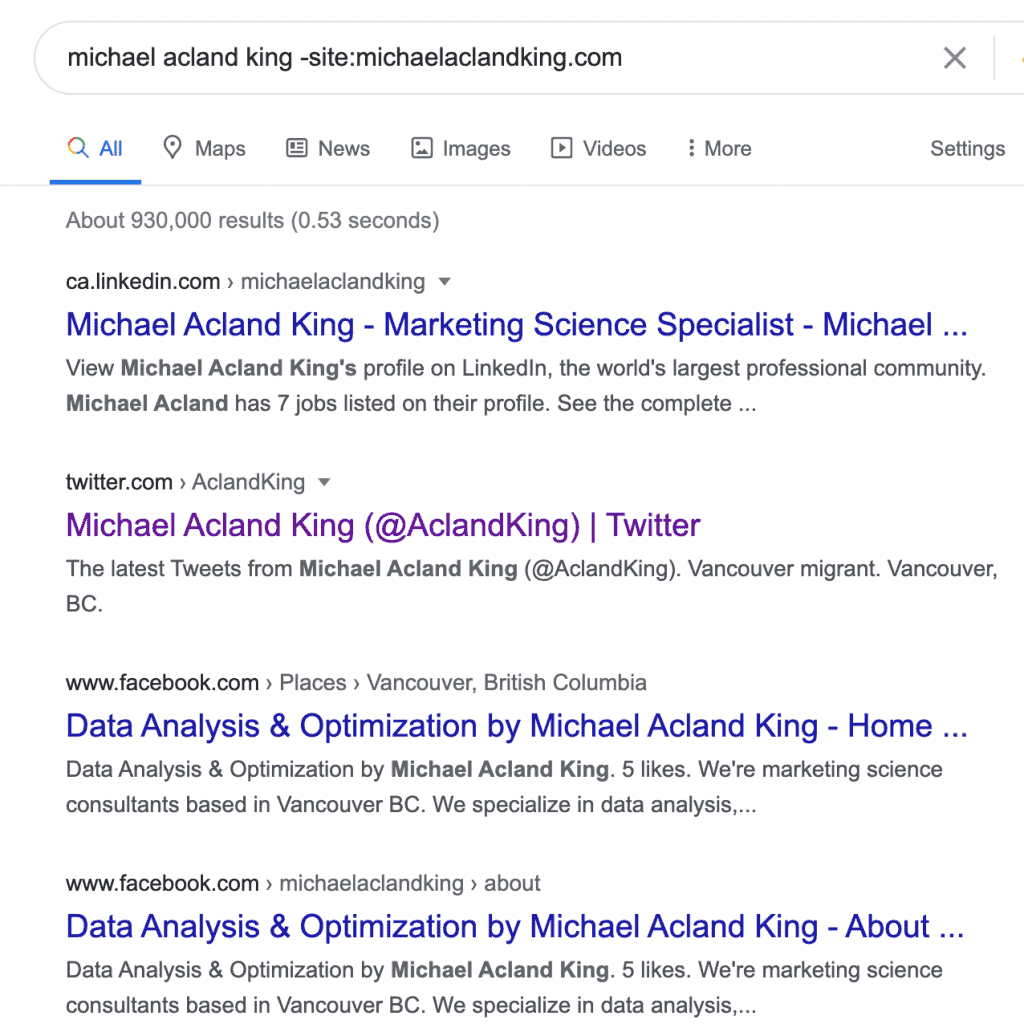 You can see in the example below that this search operator will return all the reference to my site but not my actual website.
As well as this:
"Your Brand Name" -site:yourdomain.com
You could also experiment with:
yourdomain.com -site:yourdomain.com
Use The Ahrefs Tool
Another really easy way to do it, is with the Ahrefs Broken Backlink tool.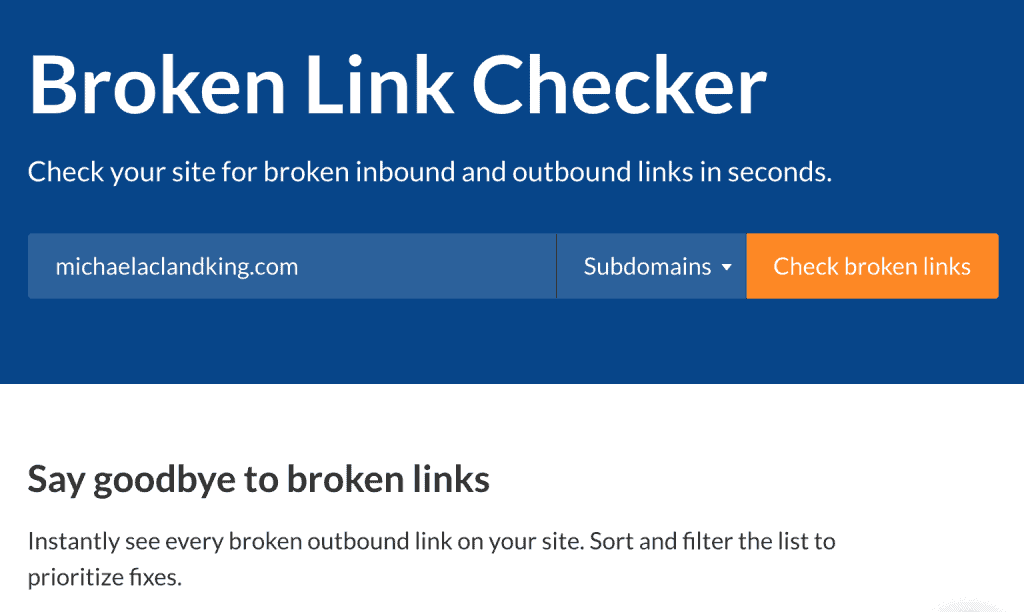 This easy to use tool with deliver you back a list of your broken backlinks across the web.
3. Update Old Pages
After you've invested time and resources into a post, rarely should you just leave it to die a slow painful death. You get that initial jump of traffic but you might notice it drop off.
This is one of your easiest SEO opportunities. If the page used to drive lots of traffic and now the traffic is dropping you could easily win that back with some SEO quick wins.
I built a sheet to easily visualize the posts with diminishing returns.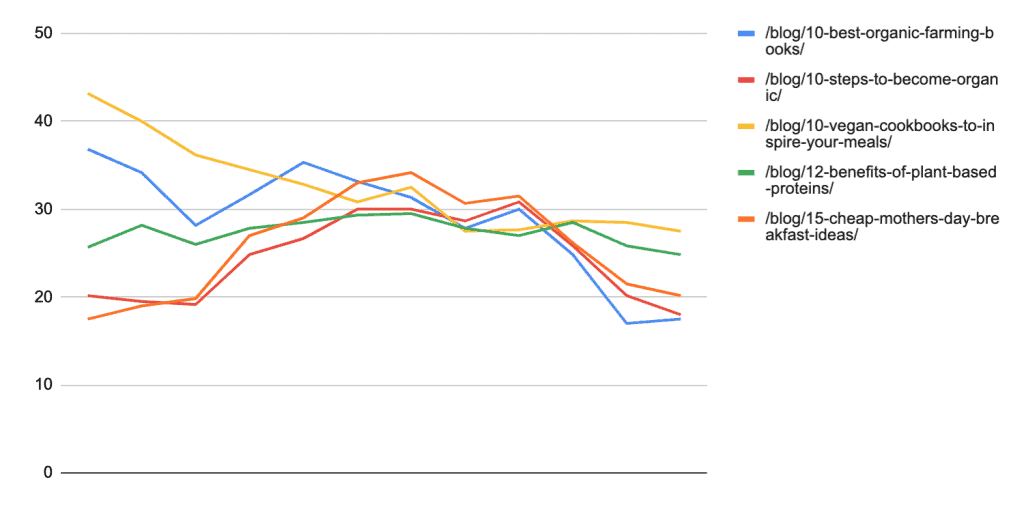 And I nice little table that shows which of your pages need some SEO quick wins.

Find Old Pages With Diminishing Traffic
Start by opening the Diminishing Traffic Report.
Make a copy of this report so you can edit it for your own needs.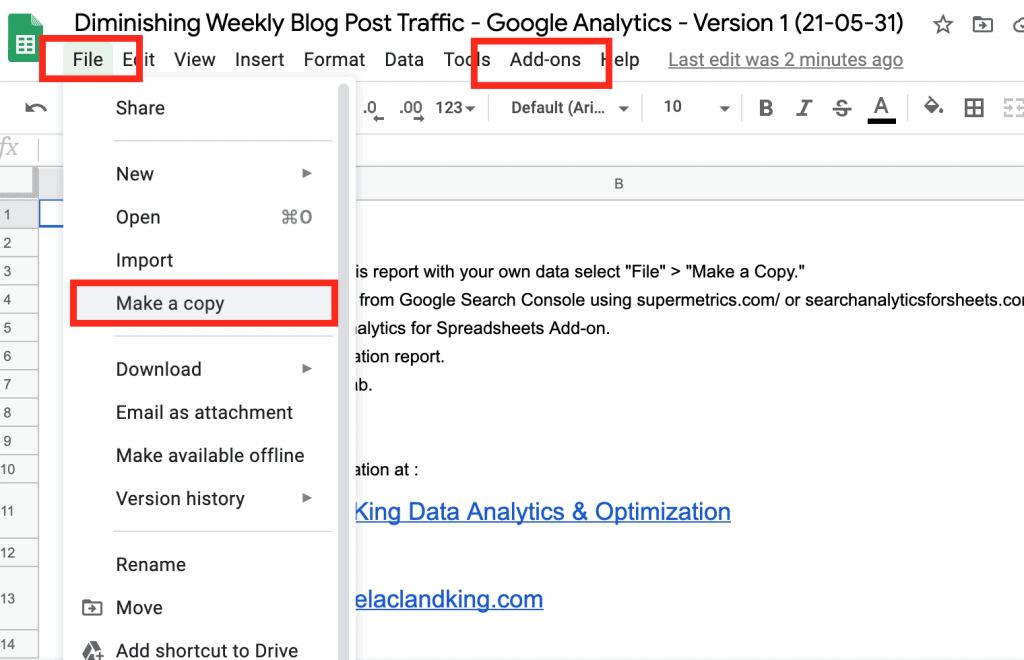 Install Google Analytics Spreadsheet Add-On
The Google Analytics Spreadsheet Add-on makes life for Google Analytics analysts so much easier. You can pull data, visualize charts, and manipulate the data in a Google Spreadsheets.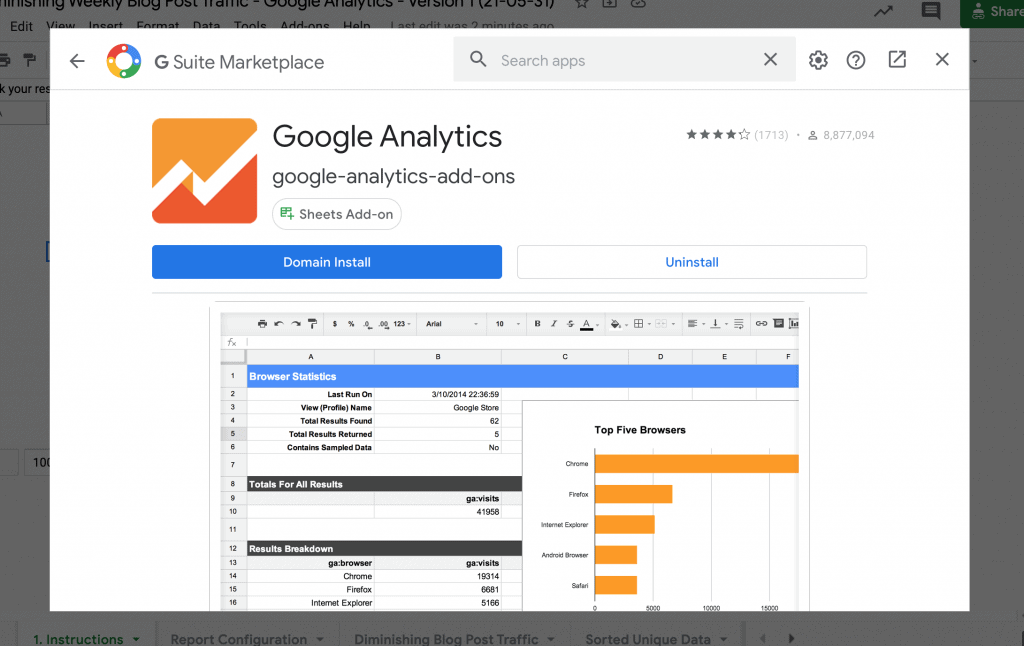 Update The Report Settings
You'll need to open the "Report Configuration" tab and update the settings.
Add the "View ID" of the Google Analytics view from which you wish to pull your data.
You may also need to update the filter. I setup the filter to only pull data from my /blog/ pages. Your website might be different and if so you can learn about the Google Analytics Add-on filters here.
When you're ready, hit "Run Reports."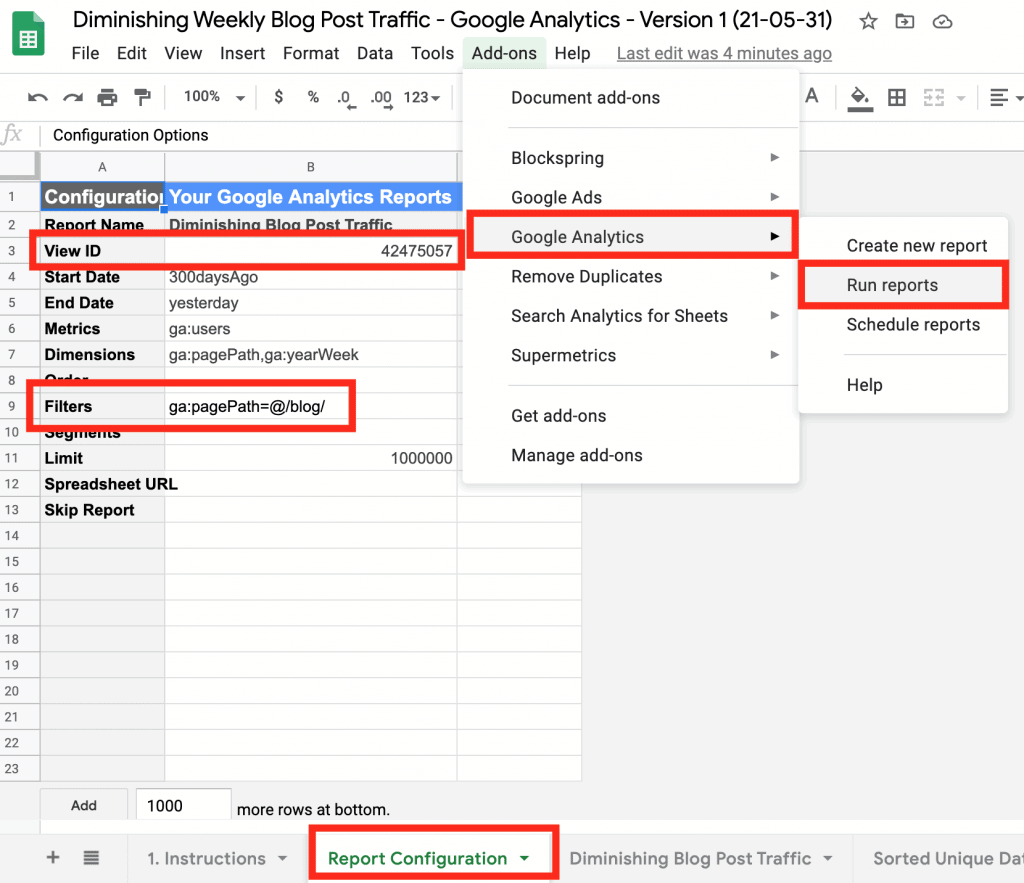 Open the "Diminishing Blog Post Traffic" Tab. Review the data to make sure it's clean and useful. For example I had to go through and remove all the query parameters from the end of my URLS so I didn't end up with duplicate blog posts in my data.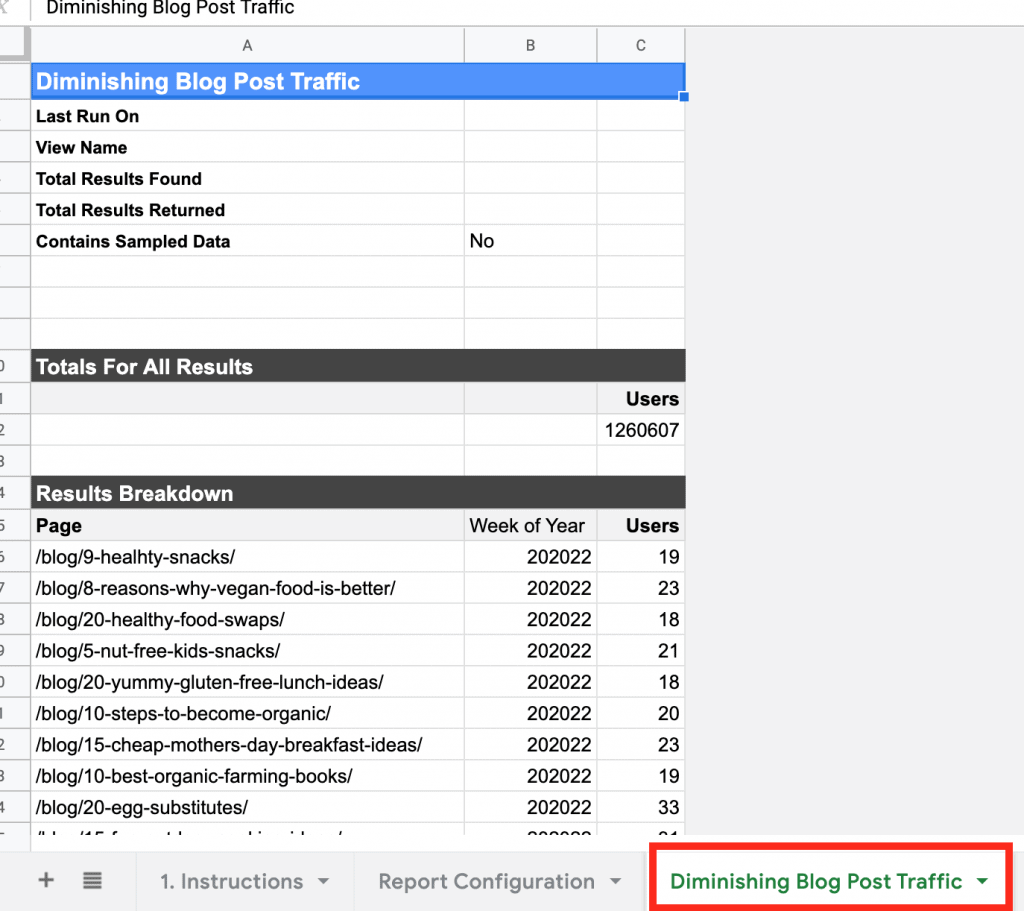 You don't need to do anything in the "Sorted Unique Data" tab but i'll explain what's happening here. The data is being pulled in and first grouped by "page" and then sorted by "Week of Year" into descending order.
Then a second function creates a 6 week rolling average for each week of users. This is a trick I picked up from Bounteous for using averages to identify trends in Google Analytics data.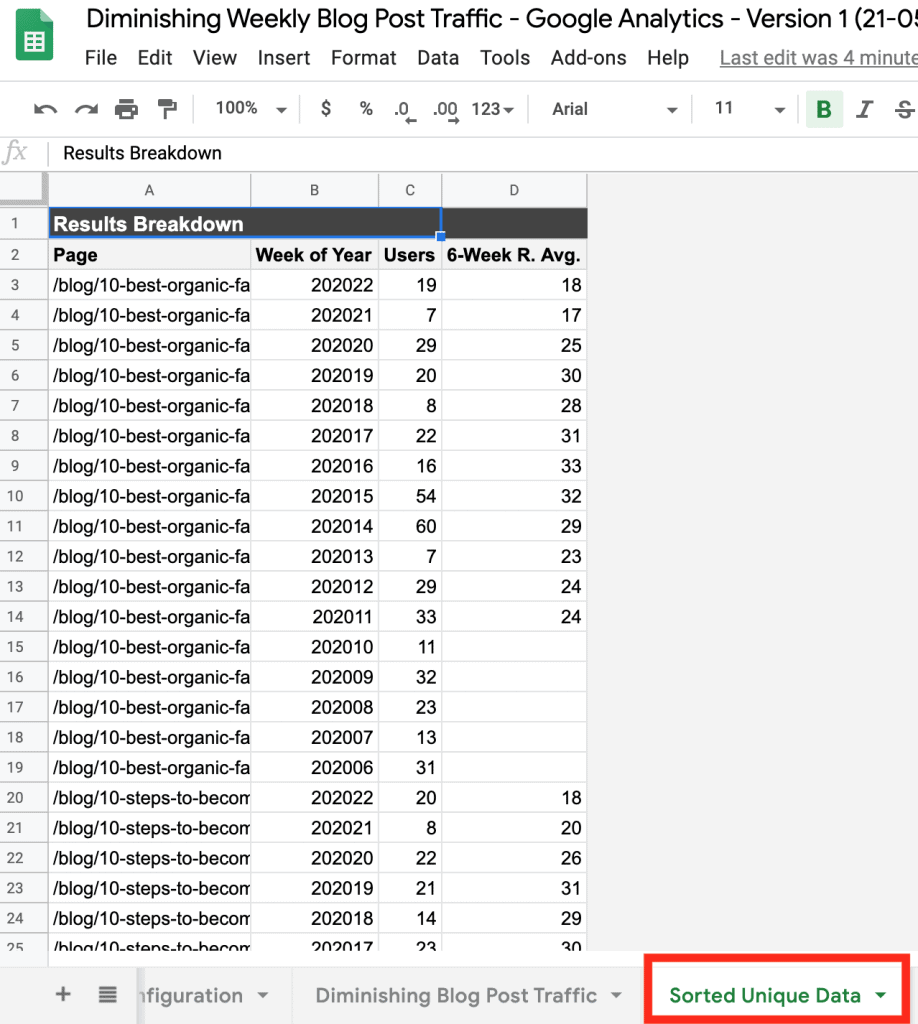 Get Your Diminishing Page Results
Finally the data is churned out into our results table.
There are two columns to look at because i've been testing out the functions and haven't decided which is better. Columns N and O use the FORECAST function to predict the number of users for the following dates. Column Q then checks if the numbers are reducing.
Column R uses the LINEST function to calculate the linear trend. As you can see in this example both column Q and R match.
Now you can easily see the pages that are loosing visitors. You don't have to start from scratch.
Take Action With Your Data
You might just need to add some internal links.
Update the title tags.
Refresh the content.
Take a look at what the competition are doing and do something better.
Most of the time, all you need to do is refresh the outdated sections.
Final thoughts On SEO Quick Wins
These SEO quick wins do work, but you shouldn't expect your website traffic to jump overnight.
Search engine optimization takes time and patience. Using data to optimize your site does make a lot of sense and using these SEO quick win reports to bump your traffic is a great place to start. It's no substitute for a well planned out data-led SEO strategy though.
---
---